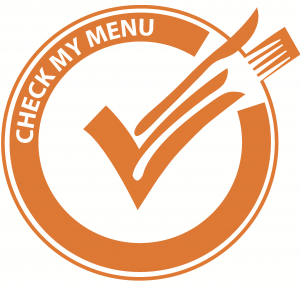 Check My Menu
"Check My Menu" is a simple and effective solution enabling restauration professionals² to inform their customers of the presence of allergens produces in their preparations by using a QR code. Read more...
Inform
Because eating should always be fun, we suggest you to instantly inform your customers of the presence or not of allergens trace and/or produce in your preparations.
Translate
Are your customers international? We suggest that always be at their service. Use our service to translate your menus and special features in another language
Optimize
Resorbable wait time is an asset to your restaurant. Saves time by freeing your servers, while providing information and quality service to your customers.
Go to Protect
Protect
With our service, you can make valuable information available to your customers, protecting them from a possible inconvenience caused by allergens, while safeguarding yourself from confrontations with the law.
About us
Our mission is to provide customer satisfaction
Because every customer is precious...
"Check My Menu" is a service provided by the company TRUSTELECT dedicated to catering professionals worldwide.
TRUSTELECT is an IT service provider specializing in computer services and new technologies to businesses and individuals.
Trustelect's Offers were developed to meet the specific needs of each; this includes their size and expectations. Our solutions are beneficial to all companies with or without internal IT resources, so that they can gain access to expertise, support and assistance in their IT service.
We work hand in hand with our partners to provide products and services which respond to their needs.
We participate fully in your projects. Your constraints become ours. We strive to achieve your goals. Commitment without excellence is a waste of time.

Customer's trust is not an option; it is a necessity. Our services take into consideration the needs and budget of our clients. We build a permanent relationship based on honesty and quality. Our customers testify of their confidence in us, daily.

Customer satisfaction is the key indicator of the success of our mission. We believe that a satisfied customer is a customer with whom we will build a lasting relationship, that will move pass the challenges of isolated cases.

We give special attention to our commitments. Our expertise is the result of a long process and experience acquired in the field and among our customers. We have developed an ability to meet our customer's needs and expectations.
Contact us
For information or quotation.